Family Weekend 2021
Make sure to check back regularly for updated information about Family Weekend 2021!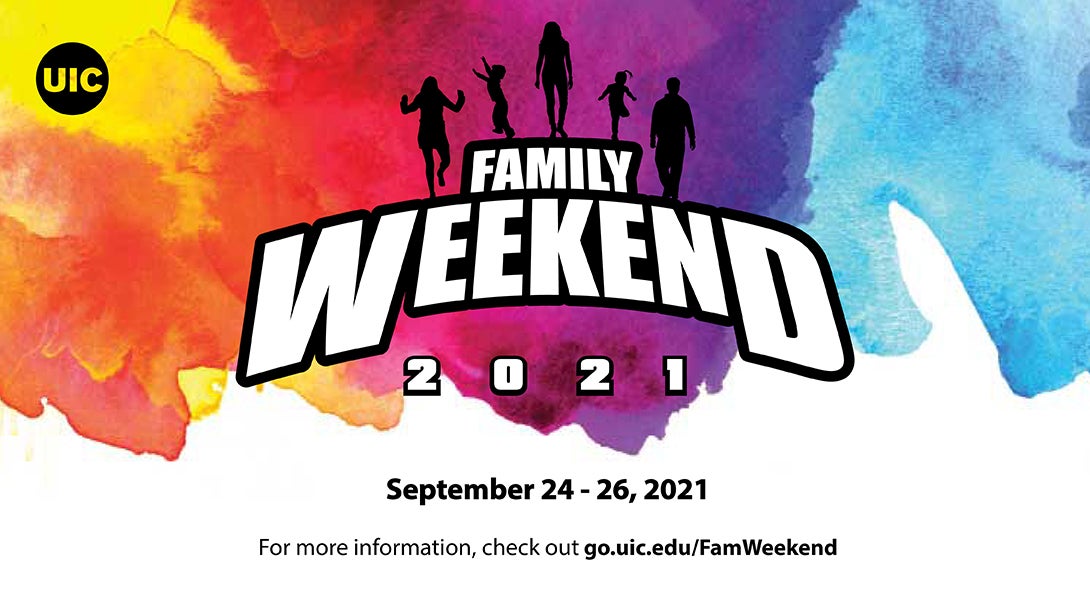 Family Weekend is Sold Out!
If you're still interested in attend, check the ticketing site regularly in case someone cancels! All cancelled tickets (until 12:00pm on Thursday, September 23) will be available for other participants to take.
You can check for cancellations HERE!
Registration is FREE for all UIC students and their family members.
Pre-registration is required for all Family Weekend events. No walk-ins are permitted.
All participants of Family Weekend are required to be fully vaccinated OR provide a negative COVID-19 test result (taken no more than 72 hours prior to the start of Family Weekend) in order to attend:
Vaccination/Testing*
UIC Students – all students will be required to show your UIC Daily Pass. Daily Pass must be green is order to attend Family Weekend events. Students who's Daily Pass shows red will not be permitted to attend Family Weekend events.
Guests/Families – all guests 12 years of age or older are required to show proof of COVID-19 vaccination. If guests are not vaccinated, you must show a negative COVID-19 test taken no more than 72 hours prior to the start of Family Weekend (must be dated on or after 4:00pm on September 21st, 2021). Attendees are responsible for the cost associated with COVID-19 testing.
*Participants will not be admitted to Family Weekend events without proper vaccination and/or negative testing documentation.
Mask Requirements
All Family Weekend participants are required to wear a mask at all times while inside UIC buildings (regardless of vaccination status)

Vaccinated participants are permitted to remove their mask when outside, however masks are encouraged at all times
Un-vaccinated guests are only permitted to remove masks outdoors if they can ensure 6 feet of distance between them and other individuals. Masks are recommended at all times.
For more information about UIC COVID-19 Policies, please visit today.uic.edu/coronavirus
Participation in Family Weekend events is open to parents and family members of current UIC students. UIC students are encouraged to participate/attend Family Weekend events along with their family members.
Below is a list of events happening as part of, or in partnership with Family Weekend. Registration for Family Weekend is required to participate in all events. More information about events, login instructions, and logistics will be sent to all registered participants prior to the Family Weekend.
Check back because new events are being added regularly!
Friday

Family Weekend Game Night

Time: 6:00pm – 9:00pm (CDT)

Location: Student Center East

Come spend time with your entire family and participate in all of our games!
Snacks provided
Activities include:

Bowling & Billiards (6pm-8pm)
Board Games
BINGO
Gaming Room
Big Pink Volleyball
Archery
Recreation Center Access
and more!

Saturday

Family Weekend Brunch

Time: 12:00pm-2:00pm (CDT)

Location: Student Center East (Illinois Room)

Bring the family to campus for our Family Weekend Brunch
Join members of the university community and other UIC families for this annual event

Food and drinks provided
COVID-19 precautions will be taken to assure a safe event for all participants

Family Weekend Information Sessions

Time: 2pm-3pm (CDT)

Location: Student Center East (various rooms)

We will be hosting information sessions related to important topics for parents and families of UIC students. Learn about resources, engagement opportunities, and UIC services dedicated to making the experience of you and your student better!
More information about specific sessions will be sent to Family Weekend attendees.

Campus Tours

Time: 3pm-4pm (CDT)

Location: Student Center East (Room 251)

Are you interested in getting a tour of campus? Maybe you want to see specific buildings or areas related to your student's college experience? Family Weekend participants who are interested in a tour will be matched with an OL who will connect with families and give them a customized, tour of campus.
Take advantage of the OLs knowledge of campus, and UIC, to ask questions and feel more comfortable with UIC.

Outdoor Movie Night

Movie: Soul

Time: 8:00pm

Location: Harrison Field

Bring your blankets and lawn chairs and join New Student and Family Programs and the UIC Student Activities Board for a family-friendly movie
Snacks provided
Feel free to bring your favorite refreshments (alcohol is not permitted at this event)

Sunday

Family Yoga

Time: 9:15am

Location: Student Recreation Facility (Multi Purpose Room)

Start your morning with a yoga session, sponsored by the UIC Recreation Center

UIC Women's Soccer Tailgate and Match

Time: 11:30am – Tailgate, 1:00pm – Soccer Match

Location: Flames Field

Come cheer on our UIC Flames as they take on the University of Wisconsin-Green Bay
Join us before the match for a tailgate!

Events for Campus Housing Residents and Families

The events below are intended only for Campus Housing residents and their parents/families who are registered for Family Weekend.

Students should attend the session that corresponds with their residence hall/housing area.

Academic and Residential Complex (ARC)

Event: Pop Up and snacks
Description: RAs will be giving snacks out to families to welcome them to the ARC. They will be giving out fun facts about campus and the ARC.
Date: Friday, September 24
Time: 5:00 pm
Location: ARC Lobby on the Residential Side

Marie Robinson Hall (MRH) and Thomas Beckham Hall (TBH)

Event: Family Weekend Flames in the Foyer
Description: Staff will be greeting families to welcome them to the hall, talk about events in the hall, and help answer questions
Date: Saturday, September 25
Time: 1:00-3:00 pm
Location: TBH Lobby

East Campus

Event: Family Weekend Welcome Events
Description: Staff will be handing out candy and campus resources to families
Date: Saturday, September 25
Time: 7:00 pm
Location: CMS Hallway close to front entrance

James Stukel Tower (JST)

Event: Family Weekend Flames in the Foyer
Description: Staff will be giving out sandwiches and playing some music to welcome families to UIC Family Weekend.
Date: Friday, September 24
Time: 5:30 pm
Location: JST library (C Tower)

All Weekend (participate in these events when it's convenient for your whole family)

Bowling in Student Center East

Family Weekend participants are welcome to enjoy free bowling in our on-campus bowling facility, The Alley.
Shoe rental cost not covered.

Chicago Virtual Tours

Families will be encouraged to take part in a number of virtual tours of famous Chicago locations, local museums, neighborhoods, and other attractions on your own time.
More information and links will be sent to Family Weekend registrants.

Community Service Opportunities

Members of the Flames Family give back regularly! We hope Family Weekend participants will take some time throughout the weekend to participate in one of our virtual community service projects.
Information about projects and instructions will be sent to all Family Weekend registrants.

Recreation Center Access

Family Weekend participants will have the opportunity to visit our Student Recreation Facility throughout the weekend.
Please visit the Membership desk upon arrival. You will need a government issued ID and will sign a waiver. Please visit our website to take a VIRTUAL TOUR and review our policies (face masks are required, except in the POOL 😊).

Virtual 5K

This event welcomes people of all ages and abilities – walkers, beginning runners, competitive runners, children, stroller-pushers, and everyone in between. Whether you're trying to beat your personal best or going out for a leisurely jog, make sure to get moving with UIC Family Weekend 5K! However you choose to complete your 3.1 miles (walk, jog, run, etc), make sure to record it using a fitness tracker of your choice.
You can use the UIC Recreation Center to complete your 5K or if you have a preferred route at home, that works too!
Finish your route between September 24-26 and upload a screenshot of your results to receive your official FAMILY WEEKEND 5K shirt! Link will be provided to registered participants of Family Weekend prior to the events start.

Things to do in Chicago

While we have activities planned for students and their families throughout the weekend, we encourage you to take advantage of all Chicago has to offer!

The events below are not sponsored by UIC Family Weekend, admissions is not included with your registration for Family Weekend.

Check links for additional information, included ticketing and/or reservations.

360 Chicago

Dates: all weekend

Cost: Tickets required (use code 'MILE' for 20% off)

More Info: https://360chicago.com/360-chicago-offers

Art of Banksy

Dates: all weekend

Cost: Tickets required

More Info: https://banksyexhibit.com/

Chicago Gangsters and Ghosts Tours

Dates: all weekend

Cost: Tickets required

More Info: https://gangstersandghosts.com/

Chicago River Architecture Tours

Dates: all weekend

Cost: Tickets required

More Info: https://www.wendellaboats.com/boat-tours-cruises/ or https://shorelinesightseeing.com/

Immersive Van Gogh Exhibit

Dates: all weekend

Cost: Tickets required

More Info: https://www.vangoghchicago.com/

Jack's Pumpkin Patch Pop-Up

Dates: all weekend

Cost: Tickets required

More Info: https://jackspumpkinpopup.com/

Marvel: Universe of Super Heroes

Dates: all weekend

Cost: Tickets required

More Info: https://www.msichicago.org/explore/whats-here/exhibits/marvel-universe-of-super-heroes/

Chicago Justice Gallery Official Opening*

*sponsored by UIC Social Justice Initiative

Date: Friday, September 24 (5:30pm-7:30pm)

Cost: FREE

More Info: https://sji.uic.edu/cjg-gallery/

Young, Gifted and Black at the Lumpkin-Boccuzzi Family Collection of Contemporary Art

Dates: Friday, September 24 (10am-5pm) and Saturday, September 25 (12pm-5pm)

Cost: FREE

More Info: https://www.younggiftedblack.com/gallery-400

Riverwalk Fall Fest

Date: Saturday, September 25

Cost: $10

More Info: https://www.eventbrite.com/e/riverwalk-fall-fest-hayrides-on-the-river-beer-cider-tastings-more-tickets-168156636025?aff=ebdssbdestsearch

Hyde Park Jazz Festival

Dates: Saturday, September 25 (1pm-10pm) and Sunday, September 26 (12pm-7pm)

Cost: $5 (suggested donation)

More Info: http://hydeparkjazzfestival.org/

Meet Me on the Mile

Date: Sunday, September 26 (9am-5pm)

Cost: FREE

More Info: https://www.themagnificentmile.com/meet-me-on-the-mile/

Multicultural Cookout

Date: Sunday, September 26 (1pm-6pm)

Cost: FREE

More Info: https://www.eventbrite.com/e/multicultural-cookout-tickets-163324519033

National Hellenic Museum Reopening

Date: Sunday, September 26

Cost: Tickets required

More Info: https://www.nationalhellenicmuseum.org/

Pilsen Vendor Market

Date: Sunday, September 6 (12pm-5pm)

Cost: FREE

More Info: https://www.eventbrite.com/e/pilsen-vendor-market-tickets-149617525045

Vegan Farmer's Market

Date: Sunday, September 26 (11am-3pm)

Cost: FREE

More Info: https://www.eventbrite.com/e/vegan-paradise-a-vegan-farmers-market-by-chicago-vegan-test-kitchen-tickets-113589435058